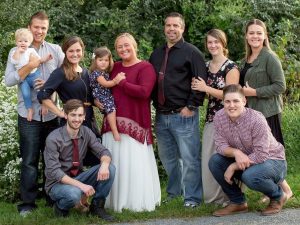 Ronald Lee Yoder was born in Americus, Georgia, in 1971, and married Rhonda in 1990. They have four children, Roxanne (married to Matthew Zook), Richie, Randall, and Ranessa.
In 1994, He became the owner of a 10-bay auto mechanics garage in Barnwell, South Carolina for seven years before selling the business and moving into full-time ministry with Gospel Express Ministries in North Carolina. He was licensed as a minister in 2004, and led a traveling gospel band and served as the evangelist, visiting prisons in twenty-nine states.
In 2009, he moved his family to Cañon City to be a campus pastor for New Horizons Ministries. He is the Prison Ministry Director and Spiritual Life Supervisor, and his current responsibilities include counseling, mentoring, leading Bible Studies, and facilitating worship times.
In 2014, He moved his family to New Holland PA to have a extended sabbatical helping his sons find there gifts in occupation and being a first time grandfather!!
In 2014, He was employed by Keystone Custom Decks on their Sales team
In 2015, He was commissioned by Bethesda Christian Fellowship as youth pastor
In 2017 He was ordained by Bethesda Christian Fellowship as associate pastor